Today we will be unboxing a Lemon & Lime CBD Sparkling Beverage from Everie. If you recall we have looked at one of their CBD teas a while back. you can review that piece here:
https://rhumcharts.com/2019/12/31/tea-time-everie-one/
Q: What does CBD stand for again anyways?
A: Cute But Dumb.
… So basically describes me sometimes… less the cute part 😭 OK, but in all seriousness it short for "Cannabidiol"
Description
Like many in the sector, the descriptions provided on their websites are lacking. Or in this case, missing. Here is what is provided from Cannabis NB for this beauty.
Unboxing
Let's pour a glass, shall we?
Verdict?
– Smell: Didn't notice too much of a smell tbh. Pretty much as you would expect with sparkling water or Sprite. There was no detectible weed smell at all. 👌
– Taste: Tastes pretty good IMO. If you could imagine mixing Sprite with sparkling water – that is pretty much the taste experience here.👍
– Packaging: Aside from the weird top plastic piece it is just a recyclable can. Pretty simple and not excessive at all.👍
– Calories: This one doesn't punch in very high with only 60 calories, so not too bad an option compared to some of the chocolate bar edibles for sure.👌
– Ingredients: Tumeric in the drink eh? I associate that with Indian dishes, but ok – didn't notice its taste tbh. 🤷
Effects
Kicks in about 15 minutes after consumption
begins to wear off about an hour after that.
It did offer some assistance in helping me to push myself in my workouts as well.
Stock info
Everie is a new brand under High Park Holdings Ltd. which is under the Tilray umbrella. Tilray trades under the symbol TLRY on the Nasdaq. Recent news surrounding the company includes some litigation. You can read up on that here if interested:
Chart
Well, instead of a chart I offer you this gif to explain what is going on with the chart. Enjoy!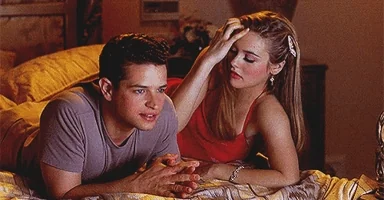 Here is my conclusion on this beverage
Disclaimer: I am not a certified comedian – please consult a comedian before having a laugh – same applies to any financial advice you might take away from my posts. If you can donate that would mean a lot to me and help to fuel me to keep going. Also, feel free to give me any feedback. Good, bad, or ugly. Thanks.